The Great Scottish Tattie Run
27th June 2021
King Edward Street, Perth
Due to the present COVID-19 situation we have had to cancel The Great Scottish Walk & Run Festival


Come and Join us -Free To Enter -You get to keep your tatties plus get a Great Tattie Run bespoke medal
27th June 2021
Silverknowes Promenade Edinburgh
We wish all our past and present participants best wishes and I hope we can put the past years experience behind us. Lets make this a joyful and celebration event for everyone.
What the participants said about the 2019 Great Scottish Tattie Run
Ann Robertson – Well organised – fab atmosphere
Lynsey Gow – Well organised – well done to all involved
Alan Fortune – We love doing events with these guys
Jill Scott – Great run – well organised – fantastic medal – good goody bag.

Come and Join Us for this the 5th Great Scottish Tattie Run and let's make it a day to remember.
Relay Race
More teams needed for relay race, ideal for charity teams, work, friends, sports clubs etc. only four per team needed.
Chip Timing
Due to the numbers participating we shall be introducing chip timing for all individual tattie runners this year. Full results will be published online within 30min of each race finishing.
FREE TO ENTER
Due to the generosity of our sponsors, this is a free to enter event.
Bespoke medal for all tattie runners and you get to keep your bag of tatties.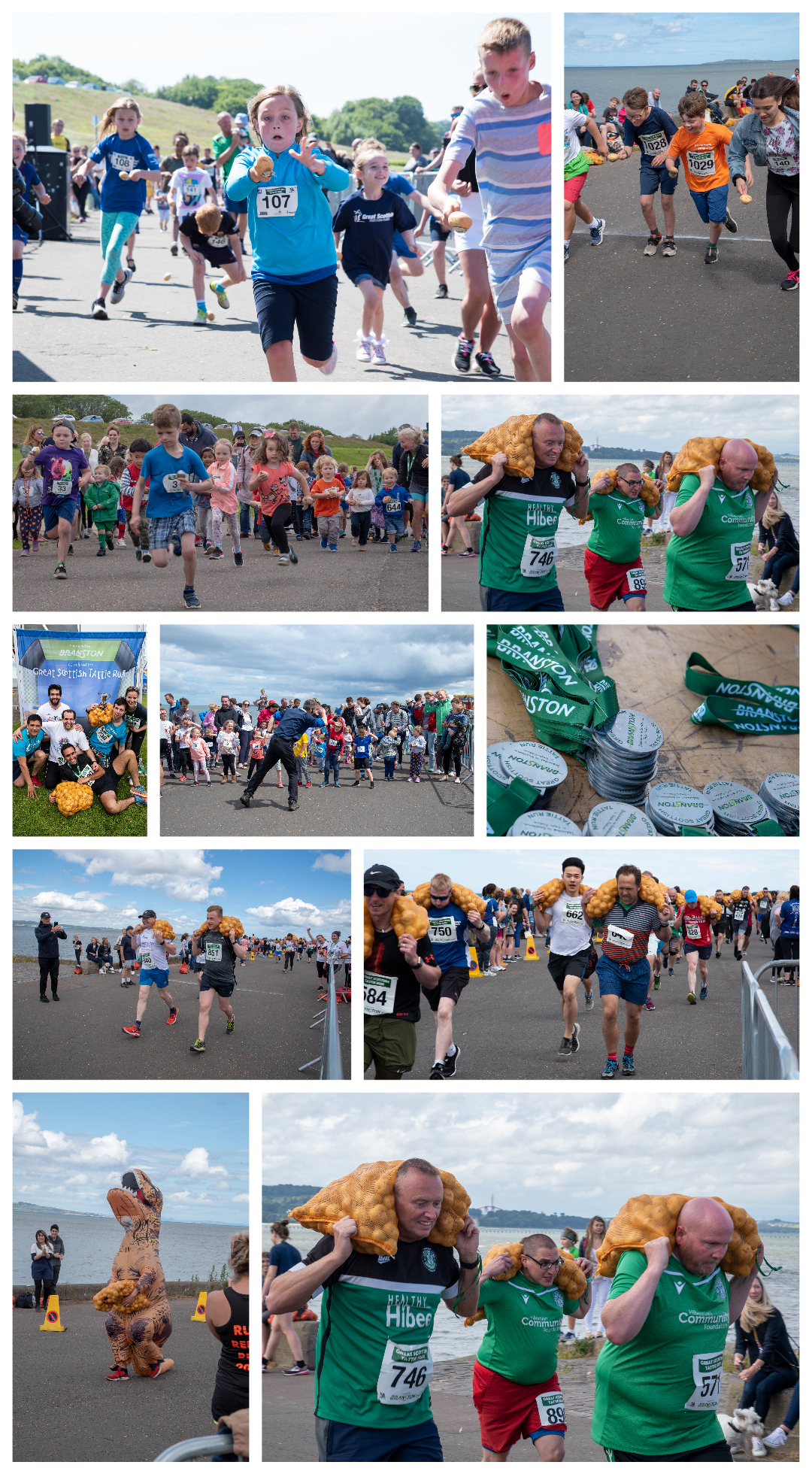 Great Scottish Tattie Run Schedule
2pm – Start Male or Female Individual race (1mile approx)
2.30pm – Start Relay Team of four race (400mtrs each runner approx)
3.00pm – Start Childrens 'Tattie Run' & the 'Spud & Spoon' race
A great fun event for your office, family, friends, club, gym, college, pub, work place etc.
Four runners in each team
Each team member runs 400 metres
The Great Scottish Tattie Relay Cup to the winners
Medal to all Tattie Runners
Free to Enter
Keep your tatties
Great bespoke medal
Enter as an individual (1 mile distance)
Enter as a relay team (400m each runner)
Spud and Spoon Race for Children
Charity teams welcome!
This event includes The Spud & Spoon race for the little ones!
This is a fun run for the little ones with a medal for all participants!