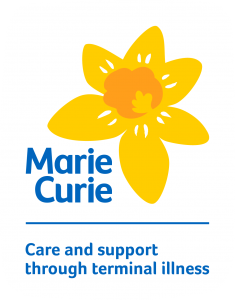 Marie Curie provides care and support for people living with any terminal illness, and their families. We are there for the people who need us, those living with illnesses including cancer, dementia and motor neurone disease. We've been carrying out this vital work for over 65 years – last year alone we cared for over 40,000 people across the UK.
Our Nursing Service: Our nurses work night and day, in people's homes across the UK, providing hands-on care and vital emotional support.
Our Hospices: Our hospices offer the reassurance of specialist, round-the-clock care and support, in a friendly, welcoming environment, for people living with a terminal illness and their loved ones.
Our Support line and Online Help: Our Information & Support team provide practical information and support through our support line, web chat, online community, and online and print content.
Our Research: We're a leader in research into better care for people living with a terminal illness. We carry out research across our hospices and nursing service.
Contact: 
Fiona Bushby, 0131 470 2290
fiona.bushby@mariecurie.org.uk
www.facebook.com/MarieCurieHospiceEdinburgh
Charity Reg No: 207994 (England & Wales), SC038731 (Scotland)