Perth City Centre – Start & Finish in Perth High Street 14th August 2021
What the papers said about the 2019 Great Perthshire Tattie Run

"A triumph"; Thousands flock to Perth for successful, sun-drenched, Super Saturday.
Huge crowds descended on Perth City centre as it played host to the Great Perthshire Tattie Run.
Perth & Kinross Council Provost, Dennis Melloy, said it was "one of the best days Perth had ever had".
Medal for all tattie runners and you get to keep your bag of tatties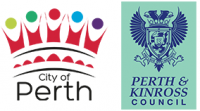 Come and Join Us for this the 3rd Great Perthshire Tattie Run and let's make it a day to remember.
New tattie run course Due to work commencing on the Perth City Hall, this year's course has been moved to Perth High Street. This will mean less cobbles to run on, see new route map for details.
Relay Race More teams needed for relay race , ideal for charity teams , work, friends , sports clubs etc only four per team needed.
FREE TO ENTER Due to the generosity of our sponsors , this is a free to enter event.
Bespoke medal for all tattie runners and you get to keep your bag of tatties.
Great Perthshire Tattie Run Schedule
2pm – Start Female Individual race
2.20pm – Start Male Individual race
2.40pm – Start Junior Individual race
2.55pm – Start Wheelchair relay
3.15pm – Start Spud & Spoon races
3.30pm – Start Relay race
3.45pm – Present relay Cup
A great fun event for your office, family, friends, club, gym, college, pub, work place etc.
Four runners in each team
Each team member runs 400 metres
The Great Scottish Tattie Relay Cup to the winners
Medal to all Tattie Runners
Free to Enter
Keep your tatties
Great bespoke medal
Enter as an individual (1 mile distance)
Enter as a relay team (400m each runner)
Spud and Spoon Race for Children
Charity teams welcome!
This event includes The Spud & Spoon race for the little ones!
This is a fun run for the little ones with a medal for all participants!